Selling in Autumn
McALLISTER ESTATE AGENTS ANTRIM
17th October 2019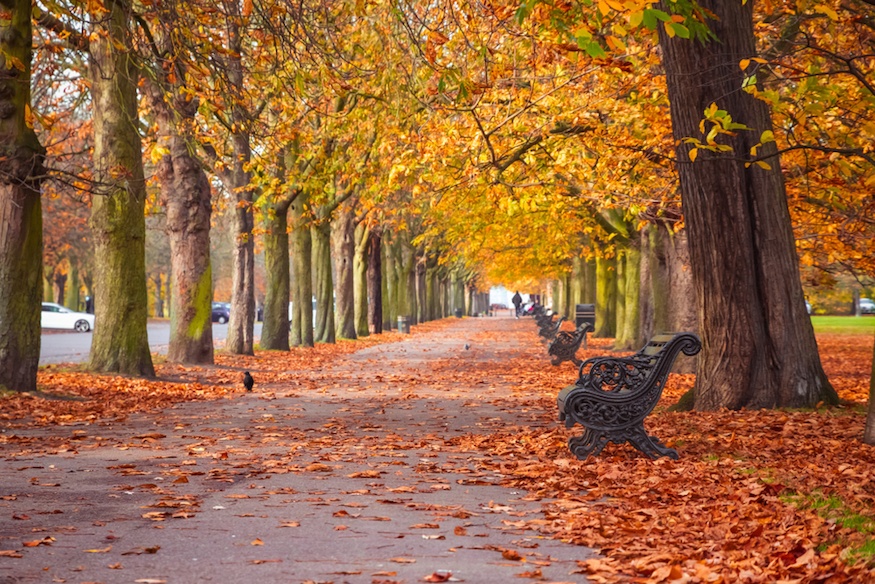 Are you thinking of selling your home this autumn? It's a great time of year to do so, with lots of potential buyers currently looking to buy their dream home and eager to get the deal done. With the early dark nights already upon us and coffee shops promoting their pumpkin spiced latte's we have put together a few tips to ensure you house sale is a success this autumn.
Get the lighting right
Natural light is at a premium during the winter months and autumn sees the evenings begin to draw in and the clocks get sent back an hour to make matters worse.
How can you mitigate this problem? An easy way to bring more light into a room without overdoing the brightness is to introduce a couple of table lamps. Obviously this only applies to certain parts of the house - think bedrooms and living rooms - the impact can be impressive.
In other areas, a brighter light can work, so switch up your bulbs. Energy saving light bulbs are brilliant but ensure they are bright enough to make the room shine. New bulbs in the bathroom or kitchen can transform a space with a minimal amount of effort and allow prospective purchasers to see your home in all its glory.
Remember though that nothing lights a room better than natural light. Ensure all blinds and curtains are fully open and windows are clean to let in as much natural light as you can.
Clear up those fallen leaves
Even if you're no longer using it, your outside space is a key selling factor for your property. It is incredibly important to maintain your garden at all times of the year if you're thinking of selling.
If you have kids, there is no doubt they will have spread their stuff all over it during the summer. Now is the time to stash toys, sandpits and paddling pools away to show off your space at its best.
Sweep up the autumn leaves as regularly as you can and do some end of season weeding and mowing. Also try to add a splash of late season colour with the addition of a few pots or new plants in the borders. Flowers like dahlias, begonias and geraniums keep going until the first frosts or you can invest in some cyclamens or winter pansies. Most garden centres sell ready-made pot displays that you can purchase to make instant impact.
If you have a side passage or hidden area in the garden, please don't forget about keeping this clean and clear. Potential buyers will be looking at every part of the property!
Ventilate regularly
Another consequence of the change in season is the reappearance of those dreaded wet windows. Airing your property regularly can dramatically reduce the risk of this unsightly nuisance.
Throwing open the windows is a good idea for other reasons too. Letting some air into your home before viewers visit will help present the property properly and give buyers the right impression. This is even more important should your property be left empty when you come to sell.
Clean your carpets
This is a tip that applies all year round but it could be argued that autumn is the best time to have the job done. After a summer of coming in and out of the garden, your carpets are probably in need of a little TLC so get someone in to spruce them up before you have your first viewing visit.
If you'd prefer to do it yourself, you can hire professional cleaning kits from numerous DIY stores for next to nothing.
Arrange early viewings
As we mentioned in the lighting section of this post, autumn is when we begin to notice the shortening days and the fewer hours of daylight we have to enjoy. Homes generally look better in daylight, so it stands to reason that you should be doing most of your viewings during this shortened period.
Try to make time at weekends for those who can't make it round in daylight hours during the week and be as accommodating as you can to those who don't ideally fit your own schedule. Mornings and afternoons can be difficult times on weekdays but showing off your home at this time of day during autumn can be well worth the extra effort.
Put the heating on (but not too high)
Shorter days go hand in hand with colder weather. If you feel as though the temperature has dropped, there's a good chance that your viewers will have as well, so stick the heating on for a bit to warm things up. To make your property warm and inviting we recommend putting the heating on at least 30 minutes before any viewings. If you're not around to do this, adjust the timer or ask your agent to do it. If you have a fireplace or wood burner, it's a good idea to get this on too.
You'll want anyone who views your home to feel comfortable while they're walking around, so don't overdo it. Just get a nice even heat throughout your home so they can take a look at your property without feeling as though they need to rush out to cool off or warm up!
If you are thinking of moving we would be delighted to offer our advice and a free valuation. You can request a valuation by clicking here or by calling the office on 02894 429977.
Larry.